Fileboom is a file hosting service that has been operating since 2014. Fileboom features a fast download speed and high storage allocations for customers. This is the reason why this file hosting service is still one of the most sought after file hoster. Fileboom gives better alternatives when it comes to online storage solutions. With higher than average download speed and longer storage duration than most services, there is no doubt Fileboom users enjoy the service even on basic accounts.
>> Go to the Original Fileboom.me website
Fileboom has been a staple when it comes to remote storage services. The website is commonly used on the internet to quickly share files among friends and co-workers. The service is also a viable form of backup for important files, with innovative security features to ensure the safety of user files. While the main use of the website is for file storage and remote access, users can also search for different videos online from a library of many high-quality videos.
What is Fileboom?
Fileboom is a cloud based storage service. It means that it can be remotely accessed anytime as long as the user is connected to the internet. This accessibility also means that anytime and anywhere, a user has the ability to upload and back-up important files on their whim. For professionals like photographers or videographers, this accessibility can be taken advantage of to increase efficiency at work. Fileboom also offers tough security features to assure the safety of its users. Features like encrypted access and password capabilities are just some of the service's best qualities. The service also includes a Premium account, The Fileboom Premium account is an upgrade to the already seamless service and some extra added features exclusive only to premium account owners.
Fileboom Premium Features
With some extra amount, a user can upgrade the usage of Fileboom service by availing of the Premium account. Fileboom Premium offers more leeway to the service and also increases the capabilities of the online file storage. If the free account is useful enough, the Fileboom Premium account is definitely on another level when it comes to storage limit, speed and other features.
Unlimited Speed
Download speed is a crucial part of any file hosting service. Most users based their subscription on whether a file hosting service is quick enough when it comes to accessing their important files. Fileboom free accounts are already fast enough for simple usage. But it is still limited because of the network integrity that's needed to be maintained. Having a Fileboom Premium lets users enjoy unlimited speed. Everything is based on the speed of the internet provider.
Built-in Download Manager
Download managers are useful tools when it comes to accessing files. It lets users manage their file downloads very easily. Some also offer VPN services. But common file hosters don't have available support for download managers. Fileboom Premium lets users use any kind of download manager. Although the speed might be compromised, having a tool for downloads is still a better option than the default downloaders for browsers.
Longer Storage Duration
Cloud-based storage services are subscription-based that's why it is expected that there is only a limit on how long a user can store files into the server. Common file hosters offer 15 days for free users. Not bad for short term usage but not if one plans to store large files for longer safekeeping. Fileboom free account has an allotted 30 days period for any files that are saved in the server. But Fileboom Premium account holders can enjoy a longer period of 90 days in every file. Users can save files into the cloud and would not be worried about the safety of their files.
Multiple Downloads at a Time
To some users, having the ability to access more than a single file at a time is a great advantage. It increases accessibility for users. It is very common for free accounts in file hosting services to be able to access only one file at a time. Quite the hustle, given that each file needs verifications before download starts. Fileboom Premium account enables users to access any number of files from the cloud storage. This feature can increase efficiency, for example, in workplaces where a number of files are always needed to be accessed at the same time.
No Ads
Of course, to gain some revenues, the website contains ads and popups. Free users are subjected to these ads on a daily basis while they use the file hosting service. Having a Premium account completely removes the ads, however, making sure users can have a smooth and flawless usage of the file hosting service.
Higher Daily Limit
With the Fileboom Premium account, users can enjoy a total of 20GB worth of downloads every day, while the free user can only download 1 file per hour. In total, the 20GB per day limit is more efficient, especially for multiple files.
>> Go to the Original Fileboom.me website
Video Streaming
Not only a cloud-based storage, but Fileboom also offers streaming services. Fileboom Premium owners can directly watch any video from the website, with no need to download. The player also supports HD and 4K videos.
Instant Downloads
No need to wait, Fileboom Premium instantly starts its downloads. Not like free accounts that need to wait for 30 secs and pass through captchas.
Resume Downloads Anytime
Sometimes, file downloads need to be canceled for whatever reason that arises. Having the need to cancel any downloads, especially those that have large sizes is a hassle. However, Fileboom Premium allows for pausing of downloads anytime a user wants to.
Security Features
Security for files is an important factor when choosing a file hoster. One good thing to consider is if the service offers encryption to every file access. Fileboom Premium's encrypted downloads ensure the security and anonymity of users. Encryption makes sure that the identity and other sensitive information would not be available for other parties. It also ensures that the files won't be stolen by malicious entities online.
Reliable Customer Support
Inquiries and suggestions are easily accepted through their customer service. If a user has concerns, Customer Service is always available through live chat, phone call and even emails on the main website.
Why Buy a Fileboom Premium Account?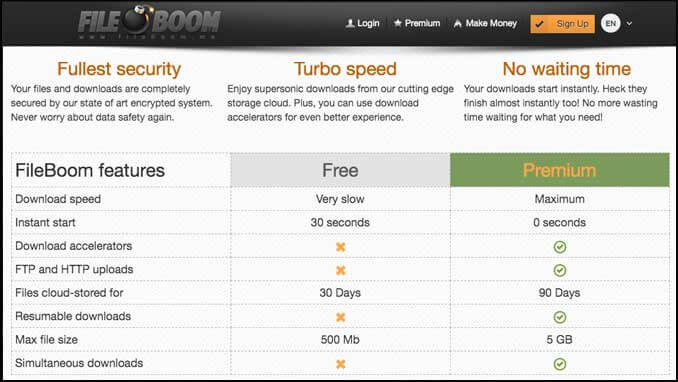 Fileboom Premium can give a large advantage to workplaces and even for students that are currently doing online classes. Peers from workplaces can easily use the service to have a network for sharing important documents and files.
Fileboom Premium account owners who happen to be content creators can also benefit largely from the file hosting service. The quick access that is possible due to the service having no speed limit can increase one's working efficiency by allowing for quick upload and download of files.
Companies can also use the service for long term backups of important documents Since Fileboom Premium includes encryption to every file access. This makes sure that the files will remain undiscoverable by outside parties.
Having the free account already ensures a decent service from the file hoster, but the Fileboom Premium really offers more to the customers. With added storage, and unlimited speeds, one can take advantage of these features and use them to increase productivity. Even students can gain so much advantage from the service.
Fileboom Premium Account Prices
There are mainly two types of Fileboom account, free and premium. As the name implies the basic account is free. No need for a monthly subscription while the service remains decent. This type of account is common for short term usage like quick transfer of files through devices. This is also commonly used for one time downloads.
For users that seek for more professional options, a Fileboom Premium account is the best way to go. With better service like faster downloads and support for different miscellaneous softwares, this account is best for long-term usage. Users can also choose the duration of the Premium account depending on their needs and budget.
| | | |
| --- | --- | --- |
| 30 Days | 90 Days | 12 months |
| $16.95 | $41.95 | $113.95 |
All Fileboom Premium features are available for every plan, the duration is the on;y thing that is different.

For payment options, the website accepts flexible partners like VISA, MasterCard, American Express and even PayPal and Bitcoin.
Fileboom Premium: Is the Service Worth It?

Nowadays, remote access to files is very important, especially now that almost everything is shifting into online transactions. Even for school works, having a service that allows for faster and safer file storage can be a good investment. There are a number of positive feedbacks for the file hoster. Think about it, a service won't last this long if there are no people that trust the service. Since its inception in 2014, there are already a number of users that never attempted to switch to other services. The price is also quite reasonable. The free package is already good enough but Fileboom Premium sets the service higher on another level.
FAQ's
How long is the free service?
There are no limits to the free account but the file storage has limits of only 30 days minimum for files.
Is the Fileboom legit?
Fileboom is 100% legit. Any file hoster won't last for 6 years if the service is fake. There are also a number of users that can back this fact.
Where do the videos from the website originate?
Every video on the website came from other users of the service. However, Fileboom constantly checks the server for possible violations of the Company Policy especially pornographic materials and other copyrighted media.
What is the maximum storage for every account?
Currently, the maximum storage per account is 50GB worth of files. This also includes other bonuses subjected to change by the company itself.
There is a policy that a user cannot share the account to other people due to possible abuse of the service but users can share any files they want through the service.
>> Go to the Original Fileboom.me website